What is Myotherapy/Massage?
Myotherapy is defined as "the application of a range of physical modalities used in the assessment and treatment of muscular conditions, which cause myofascial pain and affect human movement". Put simply a Myotherapist treats muscle and joint pain and dysfunction. Myotherapy (massage) has always been an integral part of our team approach to your health and well being. Incorporating myotherapy when required can help facilitate a faster and more complete recovery. Our myotherapists have completed the required tertiary course and have extensive practical knowledge of soft tissue injuries. Myotherapy is generally covered within the 'extras' of private health insurance companies. (although some health funds do not cover all Massage therapists)
What Type of Massage?
Our massage therapists have more than 10 years experience and use a combination of the most effective forms of massage to suit your individual needs giving you better results.
Deluxe Relaxation: A wonderful massage, that soothes stress and emotional tension, ideal for the stressed out over worked and depressed.

Remedial Massage: A deeper massage that helps relieve tight muscles & injuries and helps maintain spinal and body alignment. Ideal for those that want a firmer massage and those who work at desks.

Sports Massage: The deepest and most physical form of massage that helps improve the muscle and joint flexibility. Ideal for the sporty or outdoors type and people who have physical jobs.

Trigger Point Therapy: Direct deep thumb that releases knots in muscles. Many of these muscle knots can produce the symptoms of headaches and sciatica. Ideal for office workers and students.

Lymphatic Drainage: A specialised massage that helps with bloating and swelling. It helps the body clean out waste and toxins. Ideal for people not all that active.
How Often Do I Need a Massage?
If you are also seeing the chiropractor this may be discussed in your treatment plan as a part of your overall health plan. Typically a massage once per month is recommended but this does not apply to everyone. Some people need massage more frequently, depending on their condition and the specific reason they are coming for massage therapy.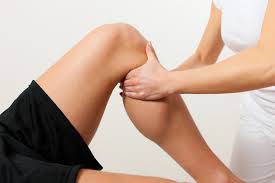 Benefits of Myotherapy / Massage
Helps relieve stress and aid relaxation

Helps relieve muscle tension and stiffness

Fosters faster healing of strained muscles and sprained ligaments; reduces pain and swelling; reduces formation of excessive scar tissue

Reduces muscle spasms

Provides greater joint flexibility and range of motion

Enhances athletic performance


Promotes deeper and easier breathing

Improves circulation of blood and movement of lymph fluids

Reduces blood pressure

Helps relieve tension headaches and eyestrain

Strengthens the immune system

Improves posture

Enhances health and nourishment of skin

Increases awareness of mind-body connection
Reduces risk of future injury

Improves overall well-being

Fosters peace of mind

Promotes a relaxed state of mental alertness

Helps relieve mental stress

Improves ability to monitor signs of stress and respond appropriately

Enhance capacity for calm thinking and creativity

Would You Like To Schedue In A Massage?
Copyright 2018 - Complete Chiropractic - All Rights Reserved